Hum hum hum!!! New project boys and girls!!! 5th chapter of 34~... so expect 29 others like this if everything goes well! Hope you like this as much as I do!
A huge thanks to Kheops from MFT on this one~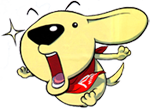 Here's a summary:
From Wikipedia + my bits:
In the series, the Hino family picks up their "little brother" from the airport. The "brother" turns out to be Rilienthal, an intelligent dog who speaks Japanese. He is also the target of men in black suit from a mysterious organization. They refer him as RD-1. Strange things seems to happen around Rilienthal. Join this ride where imagination and reality fuse around this paranormal dog!
Don't forget to hit the
plus
button! -->

MEGAUPLOAD | MEDIAFIRE | ONLINE

Translators:
B-One
Cleans:
MFT
Typesetting:
Itamaesan
Proof-reading:
Itamaesan
TO SUPPORT THE GROUP, PLEASE DOWNLOAD FROM THE MEGAUPLOAD LINK ABOVE!
WE ARE RECRUITING STAFF. TO APPLY, GOT TO OUR
RECRUITMENT SECTION OF THE FORUM
_________________
ಠ_ಠ ಠ_ಠ ಠ_ಠ ಠ_ಠ ಠ_ಠ ಠ_ಠ ಠ_ಠ ಠ_ಠ ಠ_ಠ ಠ_ಠ ಠ_ಠ ಠ_ಠ ಠ_ಠ ಠ_ಠ ಠ_ಠ ಠ_ಠ ಠ_ಠ ಠ_ಠ ಠ_ಠ ಠ_ಠ ಠ_ಠ ಠ_ಠ ಠ_ಠ ಠ_ಠ ಠ_ಠ ಠ_ಠ ಠ_ಠ